How many times have you received a discounted coupon only to tuck it away, forget you had it and missed out on the financial opportunity?
This happened to me recently which propelled me to create this form.  I had a $10 coupon from Kohls.  You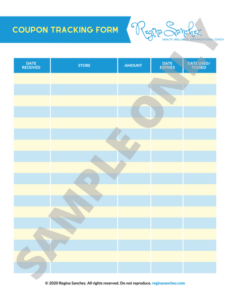 know the Kohls Buck … "Spend $10 and get $10 off."  That is a coupon I like to use.  Although I'm not a big Kohl's shopper, I do take advantage of their coupons for kitchen items and this $10 off $10 would have given me some new kitchen towels.  The only problem was I forgot I had it.  It was tucked away in my wallet which is where I put all my store coupons.  But because I didn't mark it somewhere that I have to use it by a certain date, my coupon expired.
Now if you are a digital person and do everything on your phone, then you could always put a reminder on your calendar.  But I'm not one of those persons.  I still use a paper planner and am very content with it.
If you are like me, then perhaps you would like a product (very simple one) to help you keep track of your coupons, so you don't forget about them.
Now with that being said, you need to first remember to put the Coupon information on the Form and then place the Form somewhere visible.  Somewhere you will see it daily.  For me, that's my refrigerator.
So, if you would like my new Coupon Tracking Form, click this link here and get your downloaded copy.
Hope you enjoy!
Your Health, Wellness & Organizational Coach … believing in you!