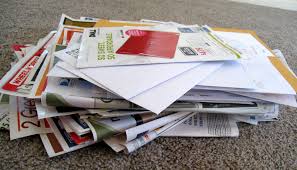 When I am working with "chronically disorganized" individuals and we de-clutter their home, there are now tasks that each family member must do to keep the work complete and the house in order.  If not, they will need to rehire me to bring things to order once again.
But rehiring me is not necessary if clients realize that the reality is we need to "make time for the mess!"  One of the habits I got into early in life was to put things in its proper place once I was completed with it.  Not everyone does that.  So for those families that do not put away items immediately after completion, I suggest that every family member take 15 minutes at the end of each day and do part or all of the following:
Pick up what was not put in place in the common areas of the home.
Fold a load of laundry AND put it away.
Sort the mail into a system that works for your family.
Shred documents from mail not needed.
Sweep/mop the kitchen floor.
Wipe down the bathroom sink.
Pick up and wipe down kitchen counters.
Each family member pick up their bedroom (clothes, school books, toys, books, etc)
Layout your clothes for the next day
Make lunches for the next day
Set the table for breakfast for the next day
If your family can make a decision to "make time for the mess" and do this for the next 30 days, you will:
have a picked up home each day
have created a new habit
I challenge you to begin now.  Don't put it off.  You will clearly have a home that is more peaceful, cozy and appealing to the eye.
Go for it!!!!
Your Organizing Expert …. Believing in You!