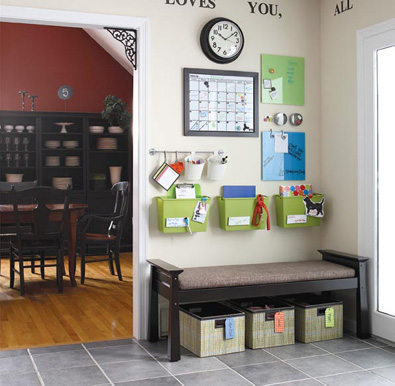 Having a Command Center or "place of order and organization" for family activities is critical for the CEO of your family … mom or dad.
Keeping up with the hectic lives of family members can be a challenge, but by creating a family Command Center you can help calm the chaos. Select a central location where everyone will know where to look, such as a kitchen or den, and incorporate the following ideas that will keep everyone on track.
Start off by displaying your Family Motto or Mission Statement.  What is a Family Motto or Mission Statement?  It's a statement that identifies what you want your family to be known for; focus on; and strive to accomplish.  Do you want to be a family that gives to those in need; or a family that helps the elderly population?  Or a family that gives to a worthy cause or organization they feel values their principles and morals.  After you have defined and created your Family Mission Statement, then determine the best place for your Command Center.  Incorporate these ideas to help keep you organized:
Shopping/Grocery lists

Menu Planner
A phone message board
A dry erase board for special reminders
List of important phone numbers
Special instructions, such as how to set the house alarm
Extra set of car keys
Emergency cash
Medical records
Bills
2014/15 Calendar
Sports, school, lesson, church and overall family calendars
To-do lists
Chore charts and reward charts
Cleaning schedule
Lunch box jokes & notes
In/out boxes
Bulletin board
Home Property binder
Executive homemaker binder or home management binder
Photo checklist
Stationary and stamps
Make some rules — this will not be a dumping zone (i.e. no backpacks, lunch bags, art projects, magazines, newspapers, etc.)
Check out some visual ideas on my Pinterest http://www.pinterest.com/rsanchezhome/ and then go and create a Command Center.  It will definitely easy the stresses of this up and coming school year.
Your Organizing Expert …. Believing in You!