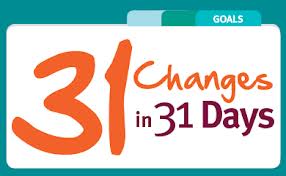 Does the thought of going room to room to de-clutter seem like a task too hard for you to take on right now?  Do you feel overwhelmed with even trying to decide where to start or how to begin?  Well here are some overall de-cluttering tips that you can do in about 10-15 minutes a day.  Starting April 1st take one task per day and at the end of April you will feel like a new person who has accomplished much.  Have a go at it!
 As you begin these simple 10-15 minute daily de-cluttering projects, ask yourself these questions.
1.      Do I or the family use this item?
2.      Do I or the family really enjoy this item?
3.      Is this item worth the space it is taking?
4.      Is this item broken?  If yes, can it easily be fixed or repaired?
5.      Are there legal reasons to hold onto this item?
6.      Does it have "heritage" connections and financial value?
7.      If down the road we really need it, can we borrow it from someone?
Now let's begin by spending 10-15 minutes per day de-cluttering the following:
 Paper Management
1. Toss Junk Mail; don't even open it
2. Invitations from Events you have already attended
3. Greeting cards sent to you and greeting cards you will NEVER send to anyone
4. Business cards you don't even know who they are or how you collected them
5. Requests for donations to Charities you don't want to support
6. Manuals for items you don't own any longer or are broken
7. Old grocery store receipts
8. Information on vacations you will not likely take
9. Information on warranties/contracts that are expired
10. Coupons that are expired OR for products you would never purchase
11. Magazines that are older than three prior issues
Kitchen Management
12. Plastic cups from sports events or restaurants
13. Recipes that are too hard or cost too much to make
14. Cookbooks you will never use
15. Vases from delivered flowers that you never used again nor ever will
16. Dishes you have not used in a year or two.
17. Old condiments in the refrigerator
 Bedroom/Linen Closets
18. Shoes that are worn, too small or are not comfortable
19. Sweaters that a "pilled"
20. Dry Cleaner hangers
21. Stained clothes that you don't wear (Are you saving them for yard or dirty work?  You really only need a few)
22. Belts that are too small or really worn
23. Worn, torn or non-matching bedding or towels
Family Room
24. Books you will never read
25. Trophies from your school days
26. Broken or unused electronics
27. Kids toys or games not being played or are broken
 Miscellaneous House
28. Photos that are blurred or you can't identify where it was (not photos with people in them)
29. All pens/pencils in house – determine if they still write.  Toss the dried pens. 
Basement/Garage
30. Old/dried up cans of paint
31. Broken tools
 Wow!  If you've gotten to the bottom of this list on April 31st and have de-cluttered, give yourself a reward.  Job well done!
 Your Organizing Expert …. Believing in You!