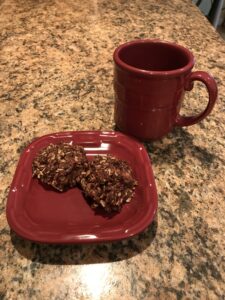 Line two baking sheets with parchment paper and set aside.
In a large bowl, mix the oats and coconut flakes well and set aside.
In a medium pot over low heat, combine the honey, coconut oil, almond butter, and cocoa, stirring continuously until the mixture is mixed evenly.
Remove from heat and add in the vanilla extract, stirring until well combined.
Add in the oats and coconut flakes (and flax if desired), stirring continuously until mixture becomes thick.
Drop heaping tablespoons of the mixture onto the cookie sheets.
Pace the cookie sheets in the freezer for at least 20 minutes, or until you're ready to serve.
Take the cookies out of the freezer and allow them to thaw for 5 minutes before serving.  Store any leftover cookies in a sealed container in the freezer.